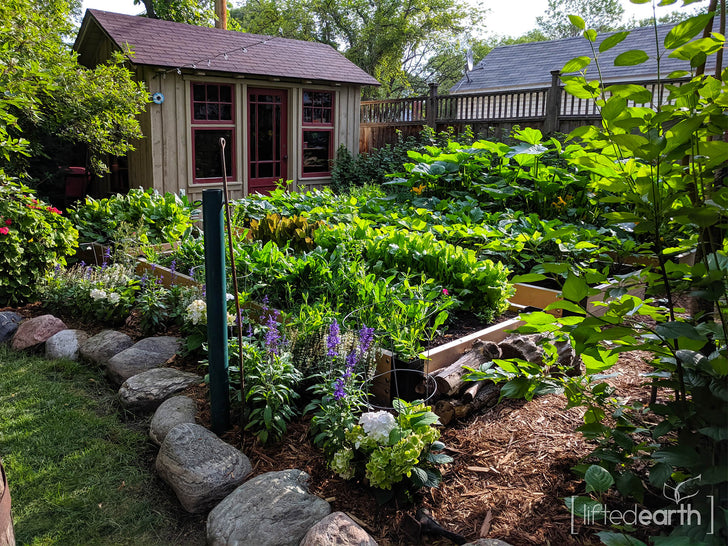 Last year was the first year that I started providing garden design and installation services for local clients using our own hardware kits. I don't advertise these services as of yet, but find this a great extension of the company. One of the highlight projects was the garden in the above photo! I honestly don't know if I need to say anything else about it except that it was incredibly satisfying to see the garden flourishing in our raised beds. 
I changed the strategy of the garden at the warehouse a bit last year, and decided to grow more of what my wife and I love, and less of what we don't. The first year of the vertical garden at the sho
p was an experiment to see what I could grow; last year was more of what we wanted to grow. Space in the vertical garden is limited and so we had to pick what we valued most. Believe it or not, most of the garden was dedicated to beans! As a kid, I hated beans. HATED. And now I can't get enough; even Ace, our slightly overweight chihuahua is crazy for beans. We love beans so much that I planted 8 different cultivars to see which ones tasted the best: tenderette, royal burgundy, top crop, green crop, blue lake pole, earliserve, slenderette, and a purple french dwarf. It was very interesting to note that not all beans are equal in their flavour. The best performers (and best tasting!) beans for us and for Ace was the tenderette. Good yields, resilient, and outstanding flavour.  Another favourite from the list was the purple french dwarf bean. As the name implies, it really is a dwarf. A small and somewhat runty looking plant, this bean took me by surprise with the yield it could produce! Its pretty purple flowers transformed into slender pods of the most amazing colour.
I wish I could say that everything I touch flourishes, but that is not the case! Both in life and in the garden, I make mistakes. I learned that too much touching your plants can actually invite disease. Some of the beans got blight (my best guess according to internet research?), some struggled because I purposely seeded them closer together than what was suggested (to try and cheat the laws of nature), and some just died because I killed them - not on purpose, of course! Mostly because I wanted to grow a beanstalk up to the clouds and fertilized it proportionately. Although it's discouraging to see something you have high hopes for wither and die, this year is a new year to learn from my mistakes and try again.  
This year will be more of the same in the vertical garden, but only a few of the cultivars of beans we love, along with more snap peas and cucumbers. I still have yet to find the cucumber that satisfies all of my requirements and can survive the torture I'll put it through. The plan for this year also involves using the rooftop at the warehouse as another growing space. There is just so much ideal garden space up there that is currently unused, and I can't not use it. Cherry tomatoes, corn, potatoes, beets, carrots, and of course, more beans will take root up there. 
In terms of products and the online store, there's an exciting new addition coming in the next week or two, as well as another coming mid-summer depending on when the shipment arrives. This is the first year I've been starting seeds before spring actually arrives and has me thinking about compact indoor 'greenhouse' designs. I'm not sure what will come of it at this point, although I would love to see something like that as part of the Lifted Earth product line.  
As always, I'll be posting updates on the gardens throughout the growing season, which you can find on facebook and IG. 
R.
Share this